BOXING
Boxing was very popular after WWII. The Rosemount Boys Club had an excellent program from the start. Pre Lafond street headed by Alex Patton, Mickey Rose, then by trainers, coaches, matchmakers Al Edwards and Al McGimpsey. This program stopped in 1960. In the 1970s, a second boxing program was started by Abe Pervin.
RBC boxers competed on regularly scheduled cards at the club and throughout the city and the province. The two main competitions were
the City of Montreal(Metropolitan) Championships - end of January and the Golden
Gloves at the end of March.
List of champions and international level boxers coming soon.
(Thank you to Jim Montgomery and other contributors.)
TO VIEW THE ARTICLE LEFT CLICK ON THE UNDERLINED TEXT
(ARTICLES / NOTES FROM THE GAZETTE AND LE PETIT JOURNAL)
AL McGIMPSEY
KEPT THE BOXING PROGRAM AT RBC GOING THRU THE FIFTIES WITH LIMITED RESOURCES WHILE PRODUCING A SERIES OF OUTSTANDING YOUNG MEN AND CHAMPIONS.
GOLDEN GLOVES
THE QUEBEC GOLDEN GLOVES STARTED IN 1938. DIVIDED INTO TWO GROUPS NOVICE AND OPEN.HELD FROM LATE MARCH THRU APRIL,SOMETIMES MAY. MOST OF THE YEARS THAT RBC BOXERS PARTICIPATED ARE REPRESENTED BELOW. THE MISSING YEARS ARE A RESULT OF NO ARCHIVED NEWSPAPERS ON THE INTERNET FOR THE LATE MARCH/APRIL PERIOD . DID NOT GO BEYOND THE YEARS WHERE RBC OR BOXERS CONNECTED TO RBC APPEARED. HOPE TO FILL IN THE GAPS.
MOST YEARS RBC HELD ONE OF THE ELIMINATION CARDS. THE GOLDEN GLOVES REACHED THERE APEX IN THE 1954 TO 1956 PERIOD. FINALS WERE HELD AT THE FORUM, THERE WAS A MISS GOLDEN GLOVES AND IN 1955 TWO HOURS OF THE FINALS WERE TELEVISED.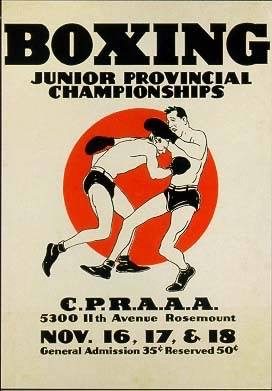 PRE GOLDEN GLOVES ERA
JUNIOR PROVINCIAL CHAMPIONSHIPS
AT THE C.P.R.A.A.A.
JUVENILE GOLDEN GLOVES
THE JUVENILE GOLDEN GLOVES FEATURING THE 45 TO 108 LB CATEGORIES WAS INTRODUCTORY LEVEL BOXING SIMILAR TO BIDDY BASKETBALL OR LITTLE LEAGUE BASEBALL. USUALLY A TWO NIGHT EVENT IN MAY. AT TIMES REFERRED TO AS YOUNG GLOVES OR STARS OF TOMORROW AT VARIOUS TIMES DURING THE FIFTIES.
MONTREAL AMATEUR CHAMPIONSHIPS
HELD UNDER VARIOUS NAMES TO GET AROUND THE CITY/ISLAND DISTINCTION, USUALLY IN FEBRUARY.
VARIOUS AMATEUR CHAMPIONSHIPS
BOXERS FROM RBC PARTICIPATED IN VARIOUS AMATEUR CHAMPIONSHIPS. WINNING THEIR "OPEN" GOLDEN GLOVES CATEGORY, QUALIFIED THE BOXER FOR CANADIAN CHAMPIONSHIPS LEADING TO OLYMPIC, EMPIRE AND PAN AM GAMES OPPORTUNITIES AS WELL AS THE DIAMOND GLOVES, A COMPETITION AGAINST SIMILAR CHAMPIONS FROM THE NORTHEAST OF THE USA.
THE PROVINCIAL JUNIOR CHAMPIONSHIPS WAS A COMPETITION WITH MONTREAL AND PROVINCIAL BOXERS ELIGIBLE.
BOXING STORIES
STORIES FEATURING BOXING AND BOXERS FROM RBC