ROSEMOUNT STREETS AND TRANSPORTATION
PRE WW I ROSEMOUNT HAD AMBITIOUS PLANS FOR EXPANSION. PROMOTIONAL PLAN AND DETAILS LINKED.
ST.JOSEPH STREET WAS KNOWN AS ST. JEROME AT THAT TIME
1913 ROSEMOUNT GROWTH AND EXPANSION PLANS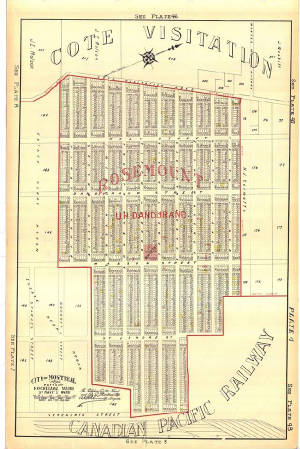 1907 Map. Thanks to Michael Barrie.
NEW PAGE REFLECTING LANDMARKS, NEIGHBOURHOODS, ACCESS AND PUBLIC TRANSIT WITHIN ROSEMOUNT. PRESENTLY ORGANIZED FROM SOUTH TO NORTH. IDEA IS TO REPRESENT AREAS AND NEIGHBOURHOODS. PRESENTLY SOME ARE UNDER-REPRESENTED. FINDING AND SUBMITTING MORE PICTURES WILL ADVANCE OUR APPRECIATION.
ST.JOSEPH BOULEVARD - ARMAND
ST.JOSEPH BLVD ORIGINALLY STOPPED WEST OF THE C.P.R.A.A. GROUNDS AND THE MARTINEAU QUARRY. ARMAND RAN FROM PIE IX, WEST TO THE ENTRANCE OF THE MARTINEAU QUARRY, ROUGHLY 17TH AVENUE TODAY. CONNECTED ROUGHLY 1956.
November 24,1947 St.Joseph st bus tramway service linked
| | | |
| --- | --- | --- |
| 1932 construction of the Iberville and St.Joseph tunnel. For years the gateway to Rosemount. | Iberville Tunnel 1947 Renovation Bus Tramway Link | 1953 Blvd Armand(later St.Joseph) and Pie IX |
MASSON
ORIGINALLY FROM JUST EAST OF THE CPR TRACKS TO PIE IX.CONNECTING TUNNEL(UNDERPASS) WAS BUILT IN THE LATE 1950S,OPENED IN 1959 CONNECTING THE PLATEAU SEGMENT OF THE STREET THRU PAPINEAU.
AT VARIOUS TIMES THE PARK AT THE EASTERN END OF MASSON AT PIE IX WAS KNOWN AS BOTANICAL GARDENS PARK, PIE IX PARK, MOST RECENTLY PROVENCHER PARK.
Late 1960s/ Early 1970s video taken during a bus ride from St. Michel to 1st along Masson.Southside.Left click to view.


1962 Papineau Masson Montreal Waterworks



1971 MASSON APPROACHING PAPINEAU

 



MASSON TUNNEL1958 CONSTRUCTION



1959 Masson Tunnel Opening



1930 CIRCUS IBERVILLE & MASSON



DOMINION MASSON AND MOLSON LINE DRAWING



1897 MOLSON BELOW MASSON & LATER

 



1962 Swimming pool at Pelican Park

 



Champlain Service Station, Masson and 3rd Avenue

| | |
| --- | --- |
| 3rd & Masson Fire & Police Station | |



MASSON & 5TH AVE, BMO MOST OF MISS MASSON.



1950S ORIGINAL EUGENE BELANGER 6TH & 7TH

 
 



Masson and 7th Avenue



MASSON BETWEEN 7TH AND 8TH AFTER TRAFFIC LIGHTS INSTALLED



1957 WIDENING MASSON



OCTOBER 1940 STEINBERG'S OPENING MASSON AND 11TH AVENUE WITH STORY. THANKS TO FLICKR



1955 RENOVATION - ILLUSTRATION STEINBERG'S MASSON AND 11TH.



CIRCA 1971



ROSEMONT THEATER



1940 ROSEMONT THEATRE USHERETTES



Champlain Service Station NE corner Masson and 12th



1946 Masson and 13th avenue.

 



RESTAURANT CHEZ DICK 3841 MASSON BETWEEN 18TH & BOURBONNIERE



CHEZ CORNELI RESTAURANT



1956 Masson View West From Pie IX.Thanks to Michael Barrie



CHIP WAGON MASSON & PIE IX, CIRCA 1947



CHIP WAGON PIE IX & MASSON 1940,



1942 Youth Baseball at the Botanical Gardens Park



1942 Botanical Gardens Park Between Masson & Dandurand
DANDURAND
FROM PAPINEAU TO PIE IX, IMPEDED AT de LORIMIER. STRETCH BETWEEN IBERVILLE AND PIE IX DICTATED HOW RESIDENTS TRAVELED TO AND FROM THE CITY CORE.
| | | |
| --- | --- | --- |
| Durivage Dandurand west of Chapleau | 5TH AVENUE BELOW DANDURAND | 1939 ÉCOLE JEAN BRÉBEUF GYM CLASS |
| Dandurand & 6th Avenue | Dandurand & 6th Avenue | 8th near Dandurand early 1950s |
| 1955 DANDURAND & 9TH | 9th Avenue South of Dandurand | 1944 Bonin Grocery Dandurand & Orleans |