ROSEMOUNT SCENES AND MEMORIES
SCENES AND MEMORIES THAT HAD MEANING, SOME HAVE DISAPPEARED BUT WILL NEVER BE FORGOTTEN.
HOSPITALS AND CLINICS

USUALLY NOT A PLEASANT VISIT

1952 CONSTRUCTION ROSEMOUNT - MAISONNEUVE HOSPITAL.



Bellechasse Hospital



1962 SANTA CABRINI



1971 Snowstorm of the century. Beaubien & 41st.

1965 Botanical Gardens train ready for another trip.
CHRISTMAS
TRIP DOWNTOWN TO EATON'S TOYVILLE HILITE OF THESEASON IN KINDERGARTEN AND GRADE ONE.
EATON'S

TOYVILLE TRAIN

Christmas time meant a visit to Eaton's. Downtown Montreal location, early 1940s



Eaton's Toyville

Christmas Gift?
ROSEMOUNT STREET SCENES AND NOSTALGIA
IMAGES OF ACTIVITIES,OBJECTS AND PLACES FROM YEARS AGO.
STEINBERG'S

WEEKLY SHOPPING TRIP WITH THE FAMILY, BAGS OR RECYCLED BOXES OF GROCERIES. PINKY STAMPS TO STICK IN BOOKS AND OTHER PROMOS.



Steinberg's Money

DELIVERING THE MONTREAL STAR AFTER SCHOOL AND SATURDAYS. RESPONSIBILITY AND SOME EXTRA CASH.

Schoolyard and playground favourite. Essential to many of our childhood games.

Miss Brooks and all the neighbourhood stores.



1945 RAGMAN



Milk Delivery



Delivery Bike



ICEMAN
1929 PLANS TO CONNECT PIE IX RIVER TO RIVER
1930s PIE IX BLVD PAVED - VIDEO at 3:30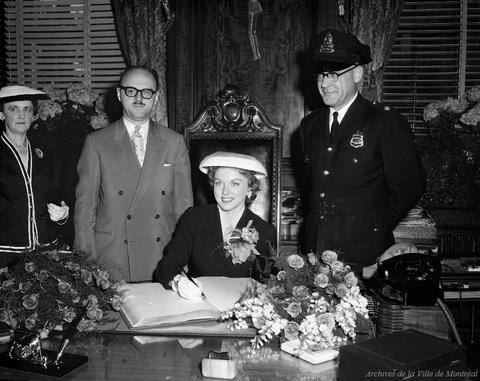 1956 MISS CANADA - DOROTHY MOREAU
1957 QRFU JUVENILE CHAMPIONS ROSEMOUNT ROUGH RIDERS
CPRAAA ATHLETIC COMPLEX
THIS WAS THE DOMINANT ATHLETIC AND SOCAIL COMPLEX IN ROSEMOUNT INTO THE MID 1950s. PART OF THE CPR ANGUS SHOPS, LITTLE INFORMATION HAS SURVIVED.
POSSIBLE TO TRACE HINTS OF CONSTRUCTION AND ACTIVITIES BACK TO THE WWI ERA.
BRIEF OUTLINE. COMPLEX FEATURED A MAIN BUILDING, ATHLETIC FIELDS, TENNIS COURT, PARKING,CIVIC # 5300 11TH AVENUE BUT THE ENTRANCE WAS IN THE MIDDLE OF THE STREET. THE COMPLEX STARTED NINE HOUSES DOWN FROM THE LANE BEHIND THE ROSEMONT THEATRE EXTENDED TO 9TH AVENUE IN THE WEST AND 13TH AVENUE IN THE EAST (EDGE OF THE MARTINEAU QUARRY).
SOUTH BORDER WAS THE ANGUS SHOPS. ST.JOSEPH ENDED BEFORE THE WESTERN EDGE.
MAIN FEATURES WERE TENNIS COURTS, AN ATHLETIC FIELD - BASEBALL HOCKEY AND OTHER SPORTS. A GYMNASIUM WITH A STAGE - CENTER WAS KNOWN FOR BOXING AND WRESTLING, A BOWLING ALLEY AND A SOCIAL CLUB THE "LUCKY SEVEN".
COMPLEX WAS DEMOLISHED IN THE 1956-1958 PERIOD.
1946 CITY OF MONTREAL INSURANCE PLAN COVERING THE AREA ALONG MASSON BETWEEN 9TH AND 13TH DOWN TO BELOW LAURIER. INTERESTING BECAUSE THE MAP OUTLINES THE CPRAAA FACILITY.
INSURANCE PLAN LEFT CLICK TO VIEW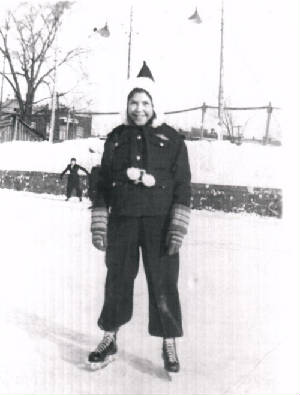 1930s C.P.R.A.A.A. SKATING / HOCKEY RINK
PRESENT DAY 10TH AVENUE AND LAURIER AREA.
1944 ROSEMOUNT YMCA ALLOWED TO USE BASEBALL DIAMOND
1947 ROSEMOUNT MANSFIELDS WOMEN'S SOFTBALL