MARTINEAU QUARRY
Simply known as "The Quarry" was the area east of 11th Avenue, towards Bourbonniere, north of the Angus Shops, below Masson. Purchased by the city of Montreal in 1947.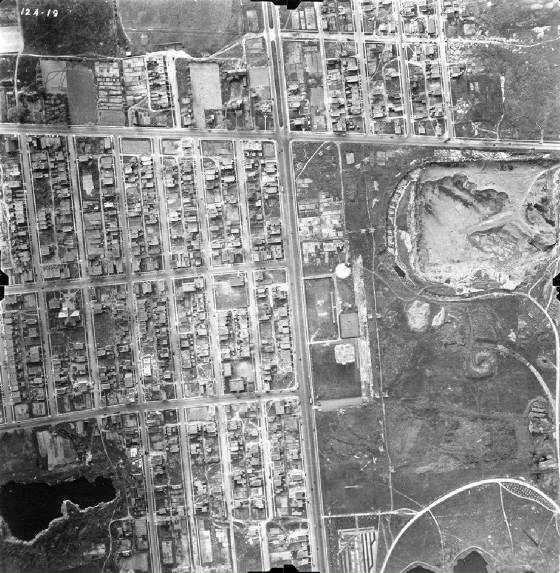 Martineau Quarry bottom left, Rheaume Quarry upper right.
MARTINEAU QUARRY PURCHASE,1947 THE GAZETTE
This allowed for the extension of St. Joseph Blvd and Laurier to Pie IX.Martineau Quarry in the bottom left hand corner. The area was developed residentially between 13th and 18th avenues. Before St. Joseph was extended the stretch from roughly 17th to Pie IX was known as Armand. A large park and a school were included.
The most important feature was the elimination of a quarry that had become an eyesore and a public danger. The pools of water, 50 feet deep in places were popular swimming holes during the summer, at times with tragic results. Neither the indoor pool on 8th above Rosemount Blvd or the outdoor pool at Masson and Molson had been built.
Left click on the title underlined below to see a slide show of the quarry looking S/SE from a Masson and 16th avenue vantage point or roughly the Bourbonniere/Laurier area. Street scenes from the 10th Avenue/Dandurand area.
QUARRY AND ROSEMOUNT IMAGES 1942