SOCCER
Soccer arrived at RBC in the late fifties, probably 1958.
The Rosemount Boys Club produced many championship soccer teams and elite level players, coaches and administrators.
1958 KIWANIS CUP WINNERS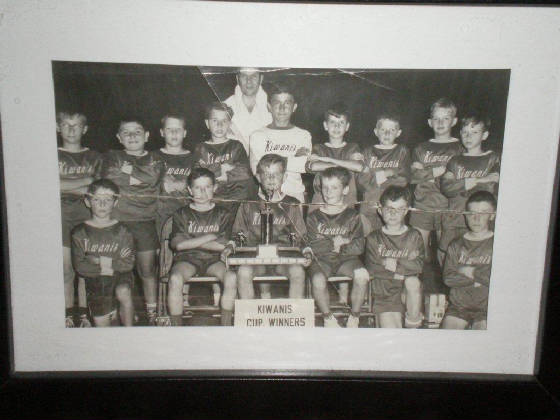 Coach- Fred Williamson
Top row left to right
Eddie ? Don Currie Rick Hubbard, Ricky Price, John ( Gusty ) Glasnovic, Brian Pink, Billy Rodeck, Ted Mitchell, Ron Thorne.
Bottom row left to right
Kevin Austin, Jim Graham, Maxi Graham, Doug Goodhand, Graham Craig, Peter Austin.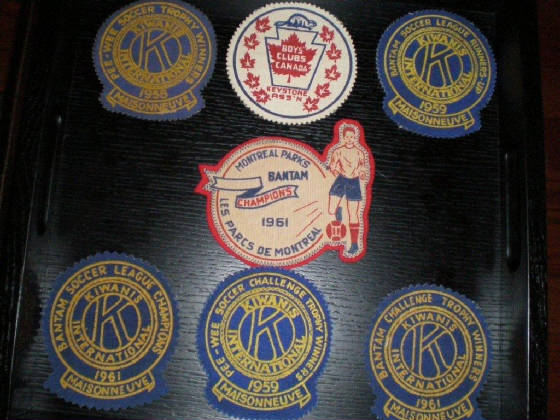 VARIOUS CHAMPIONSHIP OR FINALIST CRESTS
1958 TO 1961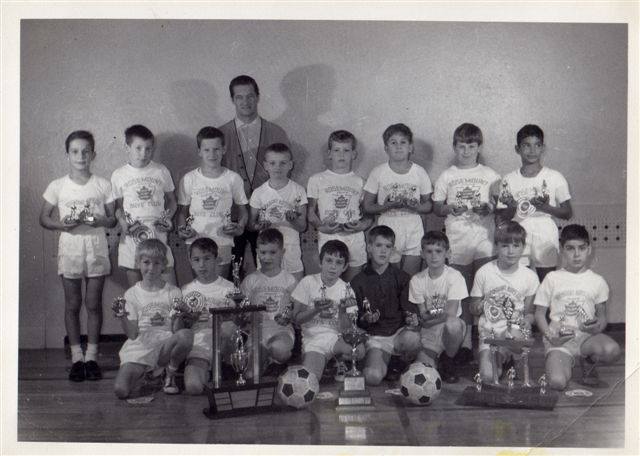 1968 CHAMPIONS - 11 & 12 YEAR OLDS(U11)
Coach Mr. Steele.
Top L to R: Fernando da Silva, x, William Ferguson,Michael O'Leary, x, Ronald Fournier, x, Philip Clarke.
Bottom l to R: Jimmy Rodeck, Stephen Czajko,x, Francisco, Grant Steele, Randy Steele, x, x.
(Thanks to Doug Goodhand and William Ferguson for the above images and info.)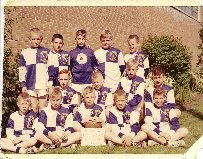 1966 RBC PEE WEE SOCCER

(TORONTO TRIP)

Front, L to R: Donald Steele, Brian Paxton, Kenny Orr,

Mike McKeown?, Jay Atkinson, Stuart Lyall.

Middle, L to R: Michael Thompson, Bruce Birtwistle,

Larry Ostafichuk, Billy Easterbrook.

Back, L to R: Eric Hazell, Dominic Savio, Graeme

Rodden, Gary Rodeck, Coach Russ Paxton.

Absent Head Coach Bill Atkinson.

MONTREAL STAR MAY 8, 1964

(STORY ON INDOOR SOCCER)

L to R: Graeme Rodden,

Tommy Tsolis, Kenny Morris,

George Lasczuk, Steve McKeown,

Bill Anastasopoulos, Robin Clarke,

Ricky McCabe.

INDOOR SOCCER ACTION

Rocky Moscola in goal, Bruce Birtwistle,

John Patatoucakis, Paul Michael.

1972 QUEBEC CHAMPIONS

Some of the players on the RBC . Stuart Lyall, Peter Tsatis, Costas Fronimadis, Billy Spartalis, Carlo Longo, Vincent Difrancesco, Salvatore Diano, Gary Hodgson, Bobby Macdonald, Steve Koussaya. Coaches Roy and Matt.

(Thanks to Tony Manna)
(Thanks to Graeme Rodden for the images and info.)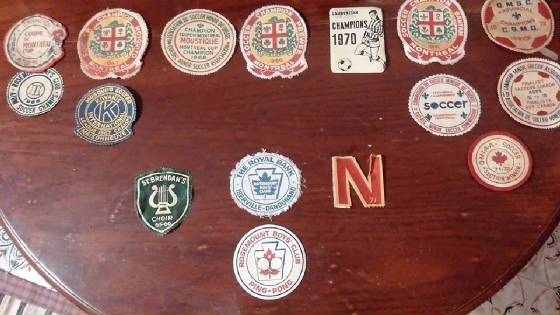 VARIOUS SOCCER CRESTS. THANKS TO ROBERT WHITTICK.
TO VIEW THE ARTICLE LEFT CLICK ON THE UNDERLINED TEXT
(ARTICLES / NOTES FROM THE GAZETTE AND LE PETIT JOURNAL)